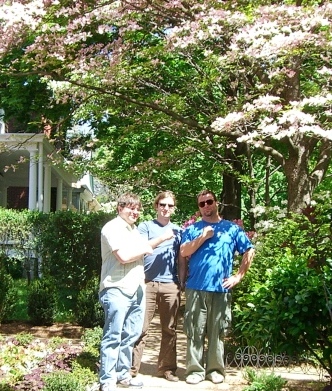 Well, it's a week late, but I wanted to write something up about my weekend in D.C. and Baltimore. I've been spending most of my time finishing up a few books I've been reading for months, and I'm excited about moving my thinking process onto the blog. But, I also have a life, and I'd like for that life to be a subject of this blog at least once in a while, so here we go.
I rolled up to D.C. Friday evening and took the Metro to U St, where I had some pre show beers with my buds Whitney and Andrew (I don't know if I mentioned this, but Andrew was the guy who married Tasha and me). They had told me they'd meet me at the Metro stop, but then they wanted me to walk the block between the stop and the 9:30 Club which is a pretty sketch neighborhood. Luckily as I was walking across the street, some random girl asked if I'd walk with her to the club, so that was better. Once I met up with Whitney and Andrew we threw back some Schlitzes and made our way to the club. Andrew had tickets for us to see Antibalas Afrobeat Orchestra, to whom I had listened before but never seen live. We also met some of Andrew's Canadian friends.
All I can say about the show was that it blew me away. I was amazed how much better Antibalas is live than what I remember from the album. The lead singer sings less than any lead singer I've seen before, hyping the crowd and playing the hand drums. They've got a horn section, too. But the rhythms were so subtle and intricate and soulful: it's really impossible not to like them. And there was a great rant about the laughable state of politics, so they quickly endeared themselves to me. I'll be sure to check them out again when next they play this area.
I've come to realize that socialized drinking can be quite a danger. It's a way to hide costs, I suppose. When you're buying your own drinks, there's a natural tension between your wallet and your need to drink. However, when you buy rounds, and your friends buy rounds, you somehow are able to justify spending more and drink far more. So by the time we hopped on the last train home we were pretty sloshed. Andrew and Whitney entertained the few people on the train by playing a roudy, sloppy game of bloody knuckles. When we got to the Metro stop I drove us back to Baltimore.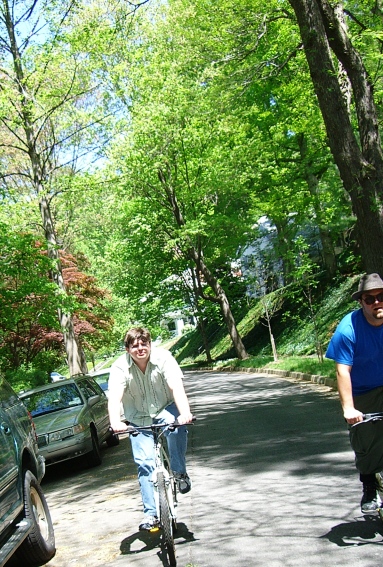 The next day I got to see the awesome neighborhood in Baltimore that Andrew and his girlfriend (an old friend of Tasha's) Samantha live in. It's like a garden - there's beautiful trees and flowers everywhere. So we biked around the neighborhood and saw some of the craziest, most affluent areas I think I've ever seen (almost sinisterly so). Afterwards, we hiked around the Arboretum, which was gorgeous as well. Unfortunately we decided to do some bushwacking, got lost, and ended up on the other side of the park (after making our way through the briars and brush), so we had to circle back around. But all and all a fun day and a wonderful trip. You can see more pictures here.
As for this weekend, Tasha is doing the Arts in the Park festival in Richmond, selling her pottery. Her friend Lisa is also doing the show and staying with us. We had a great dinner at Kuba Kuba, and I finally finished Kevin's book. More on that in a bit.
Read this article